Posts: 9
Joined: Sun May 26, 2013 10:03 am
As some of you may or may not know, this cold war R1 ROTOR bunker has been sealed since around 1991, when all of the surface buildings were demolished and ALL exits/entrances were capped with at least 15" of concrete.
But back in 2008, this bunker had access, and I am bringing you the first and only pictures from the bunker for 20 years.
More info on this place can be found on Nicks usual Subbrit site, although there are no underground pictures of this site.
But also on his site is this walk through of a similar R1 bunker at Bempton -
http://www.subbrit.org.uk/rsg/sites/b/bempton/tour/distant.html
Located on Boniface Down, on the Isle of Wight, Ventnor was a

C

hain

E

arly

W

arning (

CEW

) station with an underground R1 operations block, completed in November 1952, and commissioned in the spring of the following year. Following the demise of the ROTOR programme the Ventnor site was passed to the

C

ivil

A

viation

A

uthority (

CAA

). For some years the underground areas were leased to the Isle of Wight Council, who held it as a standby emergency bunker, but it is unlikely it was ever properly fitted out. The site reverted to the CAA for a couple of years and in 1991 the entrances to the bunker were sealed and the surface structures demolished.
The above quote was taken from a book called Cold War Secret Nuclear Bunkers, by Nick McCamley.
The small gray bungalow built just inside the chain-link perimeter fence somewhat optimistically disguised the entrance to the bunker. Besides providing access to the top of a circular stairway guarded by a Service Policeman, the bungalow accommodated the Technical Officer together with his Warrant Officer. The roof space was used to store a small quantity of spare units for the radar 'heads'

The tunnel, which was about eight feet square, descended at a significant angle and was brightly lit, had smartly painted rendered walls and had a highly polished brown linoleum floor. After about 30 yards there was a wall mounted glass fronted cabinet which contained two service revolvers. It was hard to imagine the purpose of these, especially when I later learnt that the bullets for these were kept in a safe in the office above. The corridor continued, then turned sharply left and after another thirty or so yards reached a pair of massive blast doors. These were well over a foot thick and presumably motor driven, but thankfully I never saw them closed. The corridor was now at the right-hand side of a large room known as the Radar Office.

After this, doors on the right gave access to Officers' and Other Ranks' refreshment rooms and on the left, curtained access to the Operations Room. Next, also on the left, double doors led to a few steps down into a large high ceilinged 'plant' room housing ranks of motor generating equipment and air-conditioning apparatus. The corridor, now being only six feet across, continued through double doors and around a corner to a bolted heavy steel door through which was the main ventilation shaft which doubled as a route to the emergency exit. The shaft contained a zigzag of several flights of steel stairs and a large waterfall air washing system. Finally a heavy door in the side of the shaft, now a steel tube, opened to fresh air.
Above vague quote taken from
http://www.ventnorradar.co.uk
Just inside the tall double gates, immediately on the left stood the 'bungalow' guardroom, to the rear of which was the spiral staircase down to 'The Hole'. The bungalow was demolished in 1991 and this thick concrete slab now covers the underground access. But since this photo was taken the slab and the bungalow foundation have been covered with chalky earth and there is no evidence at all that an underground R1 bunker ever existed. The ventilation / emergency egress tower has been removed and similarly welded, concreted and interred. Any unauthorised persons attempting entry would surely be disappointed, be detected by the sophisticated site security devices that these CAA outposts surely have and thus risk untimely death, courtesy of the summoned anti terrorist squad!
Another quote from the same site above.
RAF Ventnor has a whole load of history, but I wont bore you with it all, but basically its been around for ages, and through the wars etc.
All the following images are library pictures, unless they have my watermark on them.
Below is an aerial picture of the site, sometime in the 60/70s;
And another picture a bit earlier, prob around the 40/50s;
During WW2, it was bombed by the Germans, causing a significant amount of damage to the aerial and radar;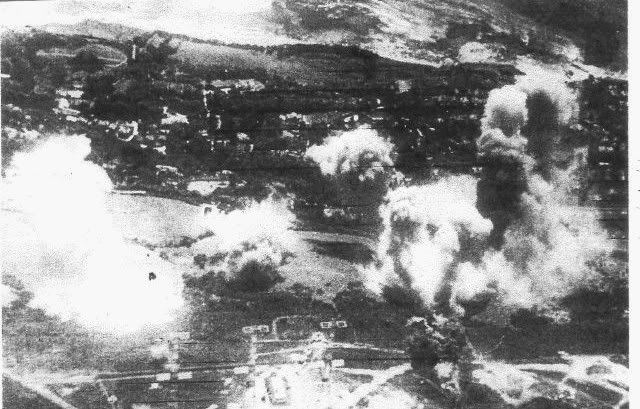 Here is a plan of it when some of it was still active;
Anyway, quick history lesson over, on with the bunker.
In this next pic, you can see the inset picture is from the first aerial picture, of the guardhouse, merged onto a picture of the same site now from Google earth, now you see it, now you dont;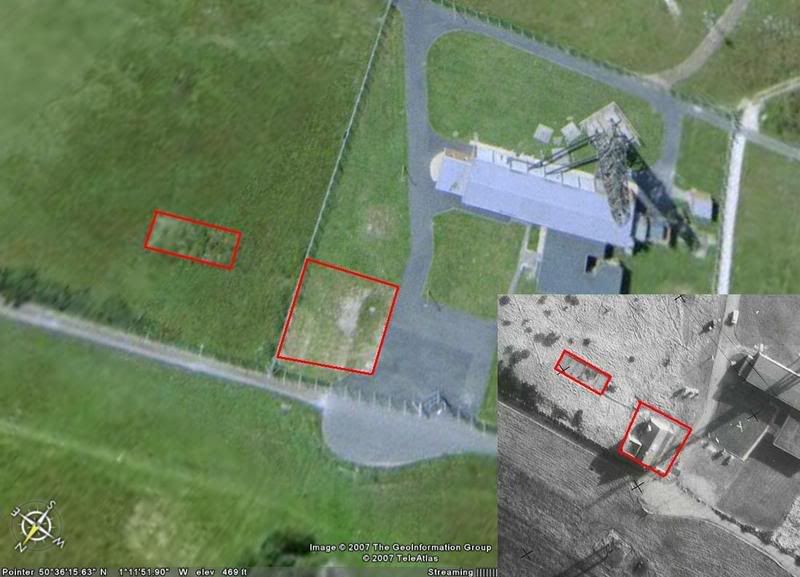 This is what it looked like before it was demolished, around 1991;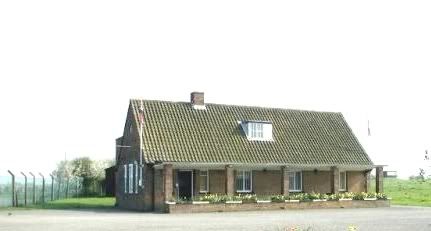 Since demolition it has been capped, as mentioned earlier;
They put a manhole cover in it so they could always gain access, but as people kept breaking into it, in 1992/4 they welded and bolted bars over it, then covered it with chalk and earth, now there is no visible recognition.
There would have been something similar this, the emergency exit stairway & vent shaft, but both were demolished and capped;
Also there would have been these, cable shafts, but these too were capped;
Here is a plan of the R1 bunker, if you havnt seen one before;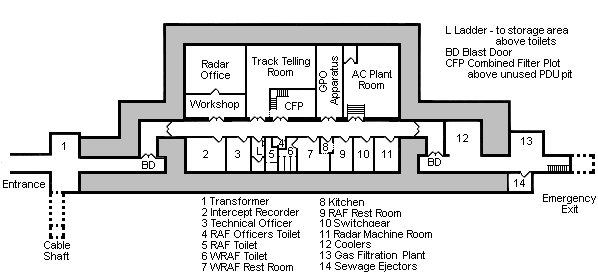 Internal photos to follow..........